An unforgettable place with a nice view of the Central Bohemian Uplands with a silhouette of the Říp Mount or two chapels along the St. Wenceslaus Pilgrimage Route. Both chapels were inspiration for the name of the golf resort in Prague (Vinoř) –
Twin Chapels Golf Resort Praha.
Twin Chapels – a modern golf resort which will attract not only golf sport lovers, but also nature and pleasant ambience lovers of all the age categories. The Twin Chapels locality is attractive not only for its excellent accessibility from the eastern part of Prague, but also to the surrounding nature looking over the Central Bohemian Uplands with a silhouette of the Říp Mount and with views of Vinoř and Ctěnice palaces. Touch of the Czech history inspiring the name of the golf resort comes from two chapels of the St. Wenceslaus Pilgrims Way", built in the 17th century in tribute to assassinated St. Wenceslaus, Patron of Bohemia, on the last journey from Stará Boleslav back to the Prague Castle.
Twin Chapels is situated on the area of almost one hundred hectares and comprises of two golf courses: 18-hole championship course, par 72, of the total length exceeding 6,450 m from the longest of five teeing grounds, and a 9-hole executive/public golf course, par 34, of the total length over 2,650 m from the back teeing grounds of the three sets available. The philosophy of the golf course design is based on the principle of respect to the surrounding landscape and local conditions with a coherent concept of strategic location of attractive golfing features and even obstacles which are intended to be a great challenge for the players. The golf course design comes from the workshop of the British company Gaunt Golf Design Limited.
Twin Chapels takes pride in its generous training facilities for long and short game – a driving range 300 m long with more than forty covered as well as green teeing grounds of high standard, a room fully equipped for professional training and vast training areas for short game. The training facilities are situated close to the clubhouse.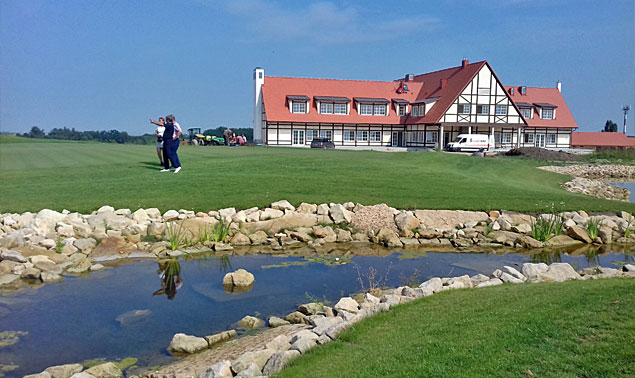 The heart of Twin Chapels is the clubhouse, built in a traditional style with a restaurant and a bar, summer terraces looking over to the golf courses, a club for members and partners, hotel accommodation and other necessary conveniences, for both golfers and non-golfers. The capacity of the parking lot nearby the clubhouse is 200 cars.
http://www.golfcoursearchitecture.net/content/construction-of-new-czech-republic-golf-resort-in-prague-nears-completion
https://www.top100golfcourses.com/news-item/exciting-times-for-golf-in-the-czech-republic
Up